Teeth Grinding
You may find yourself clenching or grinding your teeth without even realising. Most times it happens at night, but some people notice it during the day. Generally, the person doesn't realise that they grind their teeth in their sleep. The spouse or partner who shares their bed (and hears the grinding noises at night) is often the first to notice the problem.
In mild cases of teeth grinding (or bruxism) you may not require attention, however more serious cases need attention to prevent permanent damage from occurring.
As with anything, prevention is always better than cure. This will not only save you from further pain down the track, it will definitely save you money in the long run.
Most people readily maintain their cars every 10,000kms or on a yearly basis. With our ever increasing busy lives, we tend to forget that teeth are something that needs maintenance every 6 months as well. We use our teeth EVERY DAY and teeth are essential to a SMILE. Shouldn't we focus on maintaining our teeth more often then?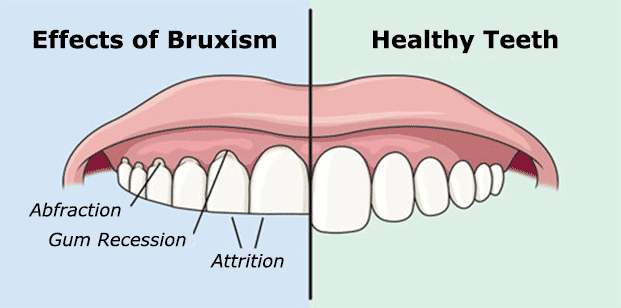 Symptoms of Teeth Grinding

It may be hard to notice it if it's a mild case. A trained eye or a local professional who takes photos at regular intervals would be able to pick it up. However, the obvious signs are:

Tired or tight jaw muscles, including locked jaw
Pain or soreness in your jaw, neck, face or ears
Headaches
Clenching or grinding your teeth
Fractured, cracked or chipped teeth
Tooth loss
Flattened or worn teeth
Increased tooth pain or sensitive teeth
Damage from chewing on the inside of your cheek
Disrupted sleep

Causes of Teeth Grinding

Teeth Grinding can be multifactorial, but the usual causes are:

Loss of support from certain teeth
Chewing on the one side (whether by choice or due to loss of back teeth)
Increased stress, anxiety or frustration
Age – more common amongst young children
Personality – including competitive, or hyperactive
Medications
Family history
Other medical disorders such as sleep-related disorders including sleep apnoea

How to treat Teeth Grinding?

Fixing the problem is one thing. The most important thing is to treat the cause. As sometimes the causes can be multifactorial, a multipronged approach might be necessary to address it.

Watch the following video to find out more....
It's more than Just Teeth
To help our patients enjoy an optimal level of oral health, free of disease and discomfort, the team here at Tooth Heaven offers the following preventative services:
Check-ups and Cleans
Gum Disease Treatment
At- Home Dental Care
TMJ and Bruxism / Grinding Treatment