Opening Hours
THE BELOW WORKING TIMES ARE POSTPONED UNTIL FURTHER NOTICE
We have extended our working hours for the convenience of our patients

Monday 7am - 9pm
Tuesday 10am - 7pm
Wednesday 10am - 7pm
Thursday 10am - 7pm
Friday 7am - 7pm
Saturday 8.30am - 1.30pm
Sunday Closed
You can now BOOK APPOINTMENTS ONLINE. Click on the button below

---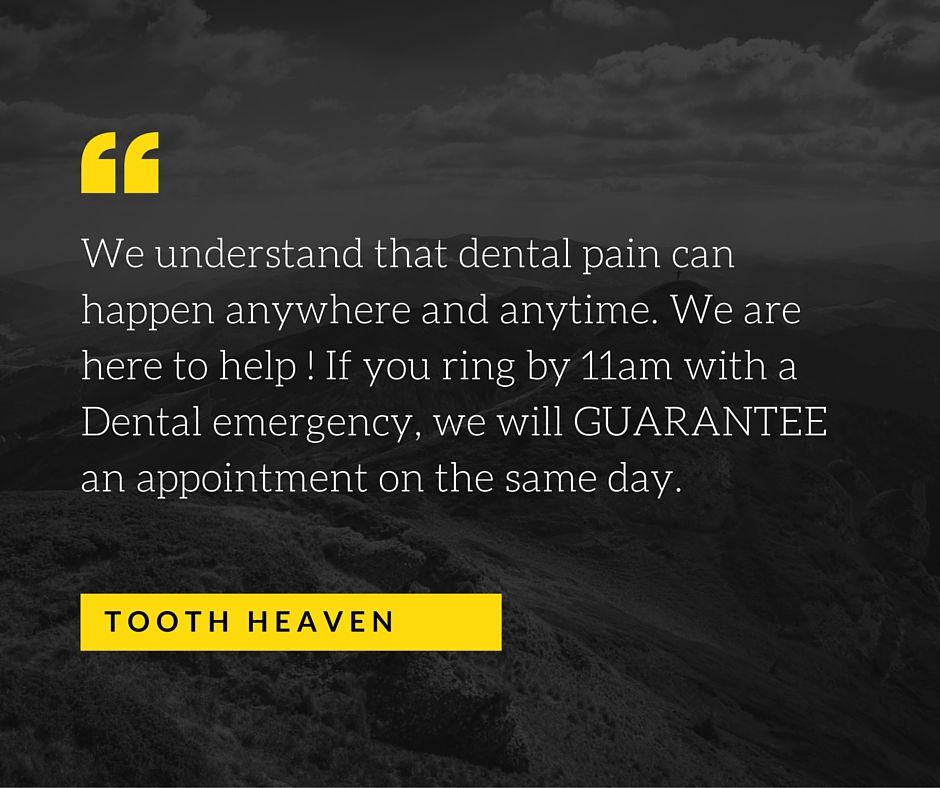 ---
Coronavirus
4-4-20
To all the supporters of Tooth Heaven,

It's been almost 2 weeks since the Government has started imposing strict restrictions in Victoria.

I sincerely hope that everyone is safe and healthy and if possible, at home.

THANKFULNESS

With the level 3 guidelines that's recently been issued by the Government and the Dental Board, many Dental Clinics have opted to shut down completely for an indefinite period of time. Link to the definition of restrictions below:
https://www.ada.org.au/Campaign/COVID-19/Managing-COVID-19/Practice-Resources/Dental-restriction-Levels/ADA-dental-restriction-levels-in-COVID-19-Publishe.aspx

Since we've decided to keep Tooth Heaven open on Mondays only for Emergencies from 10am-2pm, the support has been overwhelming. As Monday the 13/4 falls on Easter Monday, the following day on Tuesday 14/4/20, we will be open for Emergencies that day from 10am -2pm.

We've also come to know from a patient that we're the only Dental Clinic open around the area at this stage and was very thankful with the fact that we're open! She was in pain and had nowhere else to go. We were so glad that we could help her!

VIRTUAL CONSULTATION

The team at Tooth Heaven is always open to new innovative ideas and always want to be at the forefront of dentistry.

In the light of COVID-19, some patients may have concerns going out, let alone coming to the Clinic (although we still maintain the strictest protocol of infection control procedures- and more! ), Tooth Heaven is investing into Virtual Consultations via Zoom. What this means is that essentially, you can have a consult for whatever issues you might have and have an immediate answer from our dentists at Tooth Heaven, at the comfort of your own home and on your smart phone!

Watch this space. As soon as everything's set up, you will be the first ones to know.

If you are a new patient, or your 6 monthly appointments are due, the ability to do this online is already available to you. You will get a summary report from us just with a few simple clicks on your phone.

You can do so now from this link: https://ap.smilemate.com/practice/39c396e1-1368-4f57-80ce-cc2691771d68

YOUR MENTAL AND HEALTH WELLBEING

Now that staying at home is starting to be a norm, i came across this article the other day about 10 ideas on what you can do while you're at home. It definitely has helped me and the team, i hope that it might help you too!
https://www.weekendnotes.com/ten-unique-self-isolation-tips/?sb=1&i=1&j=1&k=3&wemid=91958&wuid=81125&ap=AuRJQGB1fc


YOUR APPOINTMENTS AT TOOTH HEAVEN

We understand you may have a lot of questions. We have compiled a list of procedures and actions in the table below that we hope will add some clarity to the situation.

In addition, as the situation regarding the COVID-19 pandemic continues to evolve, we too will modify our practice in accordance to the recommendations and guidelines of the appropriate authorities.

I want to personally apologize to all our patients who have booked in advance and look forward to seeing us to have their work completed.

Please continue to support us during this time of restriction, as when the dust settles, more than ever, we ask for the community's support again for Tooth Heaven to continue to have its doors open. We ask for nothing more than your patience and understanding as you consider keeping your appointments at Tooth Heaven by not cancelling them completely, but by rescheduling your appointments for a later time in the year.

In the coming days and weeks, our staff will personally be in touch with you via phone calls, email or SMS to reschedule your appointments.

We apologize again for how much this has inconvenienced you. The team and I are still reeling from the shock announcements ourselves. However, we have decided to take the advice from the government very seriously and accept our responsibility to help flatten the curve with our very best interest of health for our patients and the Team.

Thank you and we hope that everyone stays safe at home with their loved ones

We will keep everyone updated with any news on Tooth Heaven or the Dental Industry.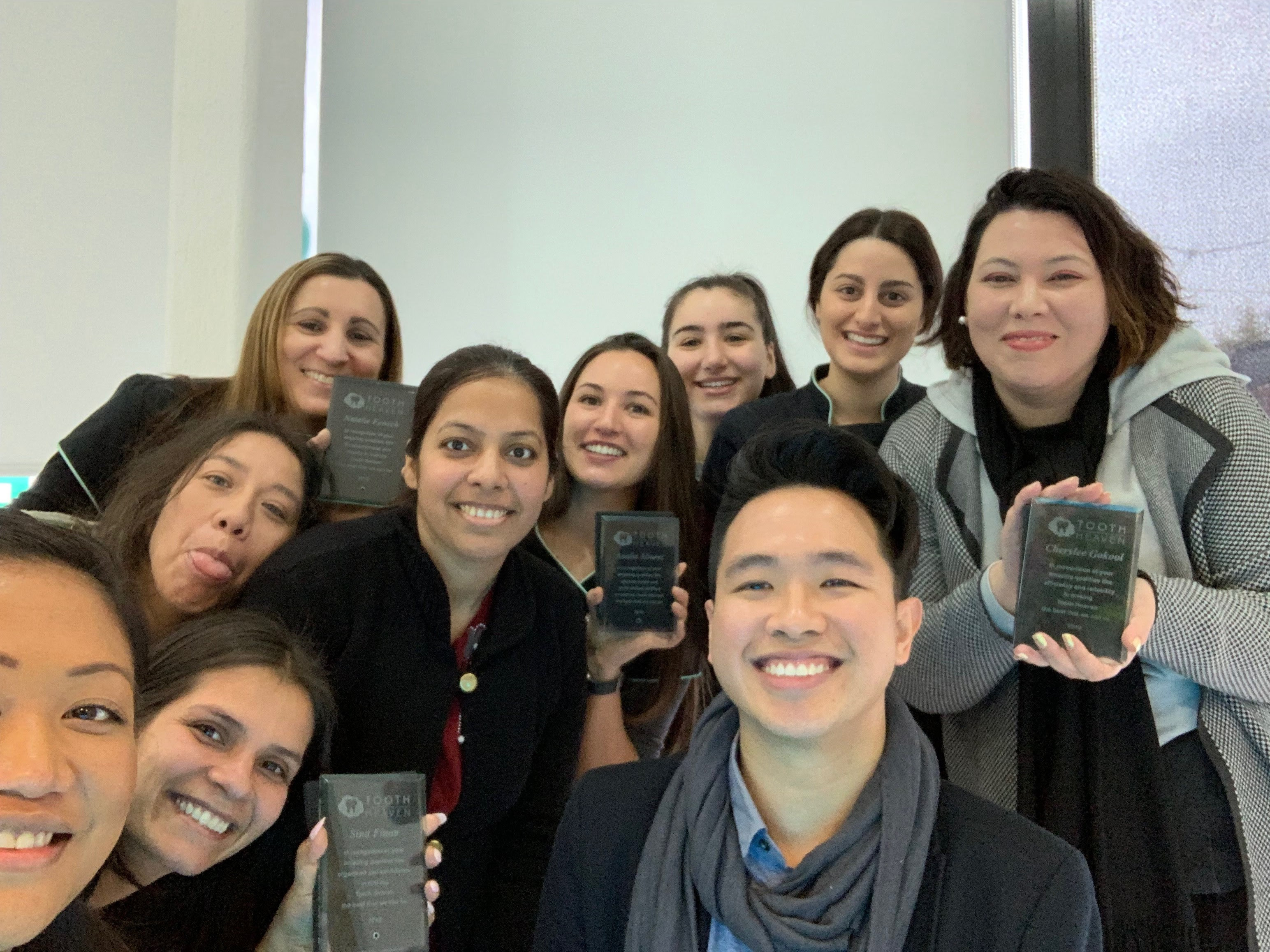 Kindest Regards,

Dr Jolvin Lee and Team
Tooth Heaven
249 Racecourse Road
Kensington
3031 VIC
03-9376 0543
www.toothheaven.com.au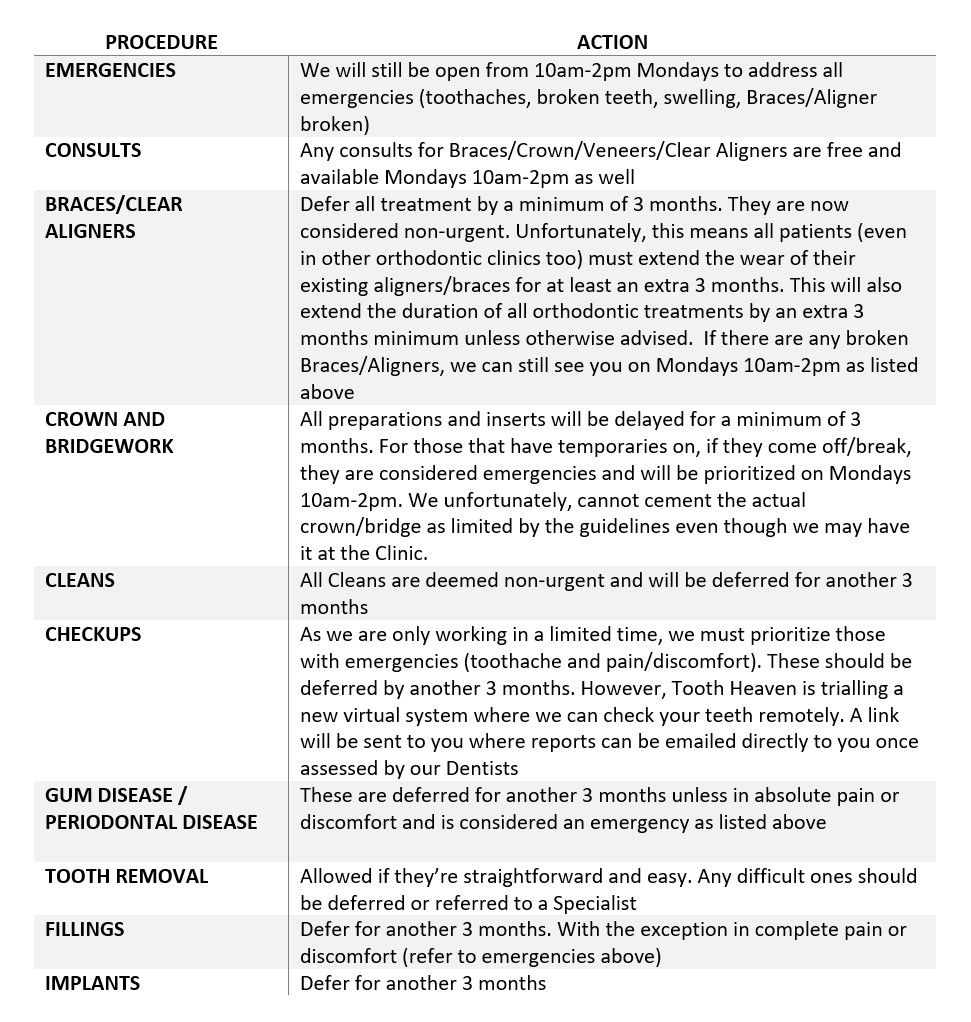 ---
18-3-20
Dear friends and supporters,
We had a patient the other day said to us, "I feel safe coming to Tooth Heaven, because I know that of all places, you guys are one of the cleanest places I know of because you wipe everything down! Not the supermarkets, nor the airports nor the medical clinic and certainly not the hospital!"
As you read through this, we want everyone to think that way about us and Tooth Heaven as we discover more about the Coronavirus as time goes by.
I wanted to personally reach out to our community and address the current situation around the coronavirus.
While the state government is actively implementing a wide range of measures to respond to the virus outbreak, we know that the situation is unsettling. At Tooth Heaven we are closely following information and advice from the Department of Health and Human Services (DHHS) and monitoring daily developments locally, nationally and internationally.
Given the severity and rapidity that the coronavirus (COVID-19) is having in Australia and around the world, we wanted to assure you of our commitment at Tooth heaven to keeping your wellbeing and that of our team members our top priority.
Health and Wellbeing is our priority
Effective immediately, we are implementing a number of precautionary measures to ensure we stay as safe as possible and reduce the risk of contracting/transmitting the virus throughout the Clinic
Our Commitment to you
At Tooth Heaven, we take your wellbeing very seriously. We will continue to monitor the coronavirus situation daily and provide updates as things changes.
We have been diligent in trying to minimise the disruption in our workplace during this time and in turn, to you our valued patients
We do hope that you understand that safety of all concerned is paramount to us
Protecting you and our team members
We have been working hard to put several procedures in place with our team members and would like to share with you our processes
In addition to the already strict protocols we have placed for infection control, we will be placing more alcohol gels around the clinic to help limit the spread of the virus. We will be encouraging the use of the alcohol gels as soon as patients walk in through the door and before the use of pens etc
On top of the strict protocols for mask usage at Tooth Heaven, we are going to ensure masks are worn more often than usual to protect you and our team members
We are taking extra steps to keep people safe with increased frequency of cleaning of surfaces like door handles, desks, toilet seats, chairs and the EFTPOS machines (including the PAPER people touch!)
We are also minimizing contact on all surfaces including removing magazines, toys and water filter in the Clinic for the time being
We are also employing social distancing measures as recommended by the DHHS by limiting chairs in the wait room, avoiding handshakes and scheduling appointments in such a way that there would be no crowding of the waiting room
We are ringing our patients prior to screen them of any possible signs/symptoms of the Coronavirus and if positive, suggesting them to reschedule their appointments to reduce the risk of transmission
A special antibacterial mouthrinse will also be introduced to all our patients prior to starting their treatment, in an effort to reduce the spread of viruses or bacteria
We are also emphasising the importance of sensible hand and respiratory hygiene for team members
Any team members, or their immediate families who have travelled in high and moderate risk countries over the last four weeks are now required to self-isolate and work from home for a 14-day period
Team members that are displaying any flu-like symptoms, no matter how mild, are being asked to work from home and not return until they have a current medical certificate to clear them of any virus
Any team member who has been in contact with a person with suspected coronavirus is being requested to immediately self-isolate and work from home for 14 days, they will also require a medical certificate to return to Tooth Heaven
If you have any specific questions or concerns, please don't hesitate to contact us at info@toothheaven.com.au or ring 03-93760543 for more information
Thank you as always for supporting us in keeping the Clinic afloat during these tough times
The clinic is running business as usual from Monday - Saturday.
Kindest Regards,
Dr Jolvin Lee and team
Tooth Heaven
---
Tooth Heaven and its staff are consistently on the go to give back to the community that has helped them.
Find out what we've been up to lately by clicking the image below:

---
Looking for a Dentist in Kensington or Dentist in Flemington ?
Kensington and Flemington is an upcoming and trendy inner western suburb of Melbourne, only about 4 km north-west from Melbourne?s CBD. Being close to the city and littered with parks and amenities and a state of the art community centre,
this has brought a real buzz to the area. There are also many wonderful cafes and restaurants within stone's throw distance away.
Tooth Heaven is conveniently situated on the main road of Kensington and Flemington and just a short drive away from the main town centre of Kensington and Flemington. Look for the glowing tooth and don't worry, there's plenty of carpark on the sidestreet of Nottingham Street and Barnett St. You can even take tram 57 to our doorsteps!
From Kensington and Flemington, just walk or drive over and you'll reach us within minutes.
Dentist Kensington, Dentist Flemington, Dentist Travancore, Dentist North Melbourne, Dentist Parkville
As local schools don?t have dental services on-site, we are conveniently placed to look after the dental needs of all the young and established families.
Being a local dentist, we have appointments available daytimes, afternoons and early evenings ? even Saturdays as well.
Make Tooth Heaven your local dentist at kensington and/or dentist at flemington and/or dentist at travancore and/or dentist at north melbourne and/or dentist at parkville. Tooth Heaven is ready to meet all your dental needs.
We are dentists servicing the areas of kensington, flemington, travancore, north melbourne and parkville
---