Tooth Heaven: Dentist in Kensington
| | | | | | |
| --- | --- | --- | --- | --- | --- |
| Happy Patients | Smile Makeovers | Invisalign / Braces | Implants / Crowns | Hours Spent on Teeth | Fillings Performed |
Opening Hours | Your Dental Practice and Dental Surgery in Kensington

Please refer to the link https://www.toothheaven.com.au/covid-19_alert.html for more recent updates on how Tooth Heaven is dealing with COVID-19

Our dental surgery's hours have been extended for the convenience of our patients

Monday 7am - 7pm

Tuesday 7am - 7pm

Wednesday 7am - 7pm

Thursday 10am - 7pm

Friday 7am - 4.30pm

Saturday 8.30am - 1.30pm

Sunday Closed

You can now BOOK APPOINTMENTS ONLINE. Click on the button below

Choose from the following options to find out more:

Our motto is "Changing lives, one tooth at a time".

We are not here to just "do dentistry", we are also here to change lives, one tooth at a time. We know we are on the right track when someone says to us "I'm so glad i've finally found you - you've changed my confidence, my smile, my life"

With a combined experience of over 22 years, we are what you call, a "one stop shop" for everything dental. From Braces to Implants, to checkups and cleans, you can expect to have most of your dental needs performed all at the one same place without the need to travel to different places. That's because we care about your needs and we care about helping you with every way we can.

From the very moment you make an appointment, to walking in through the main doors to sitting on a dental chair, expect to walk into a comfortable, relaxing environment and be treated like family.

Tooth Heaven have been constantly called the "friendliest dentist we've ever met" by alot of our patients, and some have even become long-term friends of ours!

Where is our dental clinic? We're literally right across McDonalds and KFC on Racecourse Road in Kensington !

Just look out for the GLOWING tooth!

Choose from the following options to find out more:

Looking for a Kensington Dental Clinic or Dental Surgery?

Kensington and Flemington is an upcoming and trendy inner western suburb of Melbourne, only about 4 km north-west from Melbourne?s CBD. Being close to the city and littered with parks and amenities and a state of the art community centre, this has brought a real buzz to the area. There are also many wonderful cafes and restaurants within stone's throw distance away.

Tooth Heaven is conveniently situated on the main road of Kensington and Flemington and just a short drive away from the main town centre of Kensington and Flemington. Look for the glowing tooth and don't worry, there's plenty of carpark on the sidestreet of Nottingham Street and Barnett St. You can even take tram 57 to our doorsteps!

From Kensington and Flemington, just walk or drive over and you'll reach us within minutes.

Choose from the following options to find out more:
---
GET SOCIAL WITH US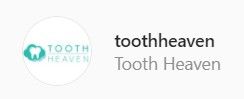 Choose from the following options to find out more:
---
Dentist Kensington, Dentist Flemington, Dentist Travancore, Dentist North Melbourne, Dentist Parkville
As local schools don't have dental services on-site, we are conveniently placed to look after the dental needs of all the young and established families. Being a local dentist, we have appointments available daytimes, afternoons and early evenings, even Saturdays as well. Make Tooth Heaven your local dentist at kensington and/or dentist at flemington and/or dentist at travancore and/or dentist at north melbourne and/or dentist at parkville. Tooth Heaven is ready to meet all your dental needs.
We are dentists servicing the areas of kensington, flemington, travancore, north melbourne and parkville