Current popular promotions
- Free checkups every 6 months ( has to be pre-booked )
- Free orthodontic consultations
- Introducing..... Tooth Heaven Membership!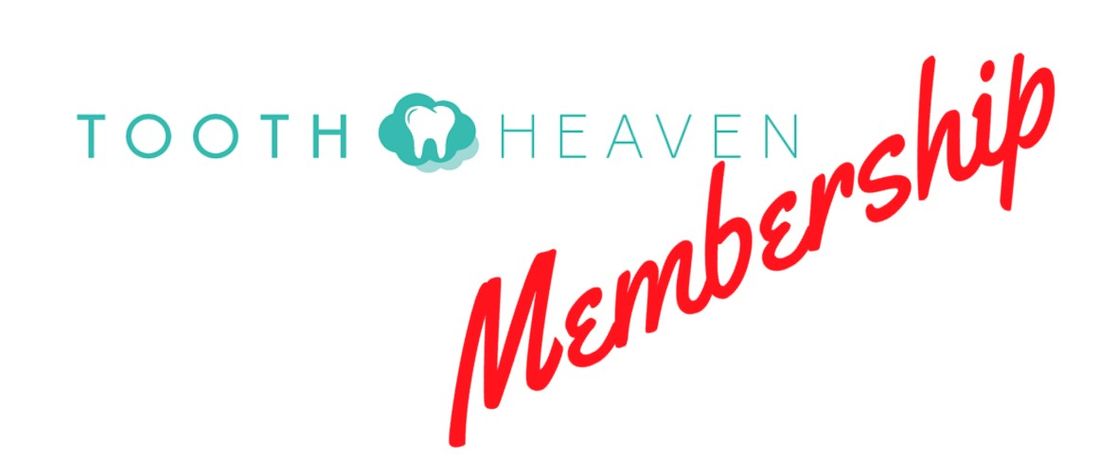 No Dental Insurance? No problem! Our practice is now offering a low-cost, in-house, dental plan for a nominal membership fee. Our plan includes preventative dental care and a discount on all our work. This membership can be activated and used at your next visit ! Sign-ups are done in person at Tooth Heaven.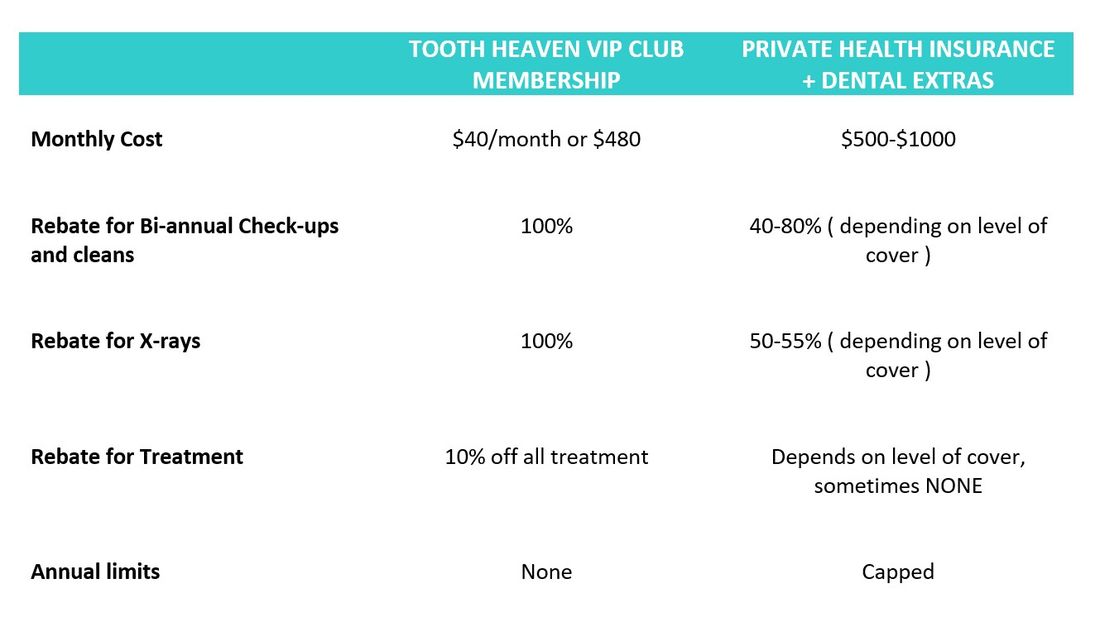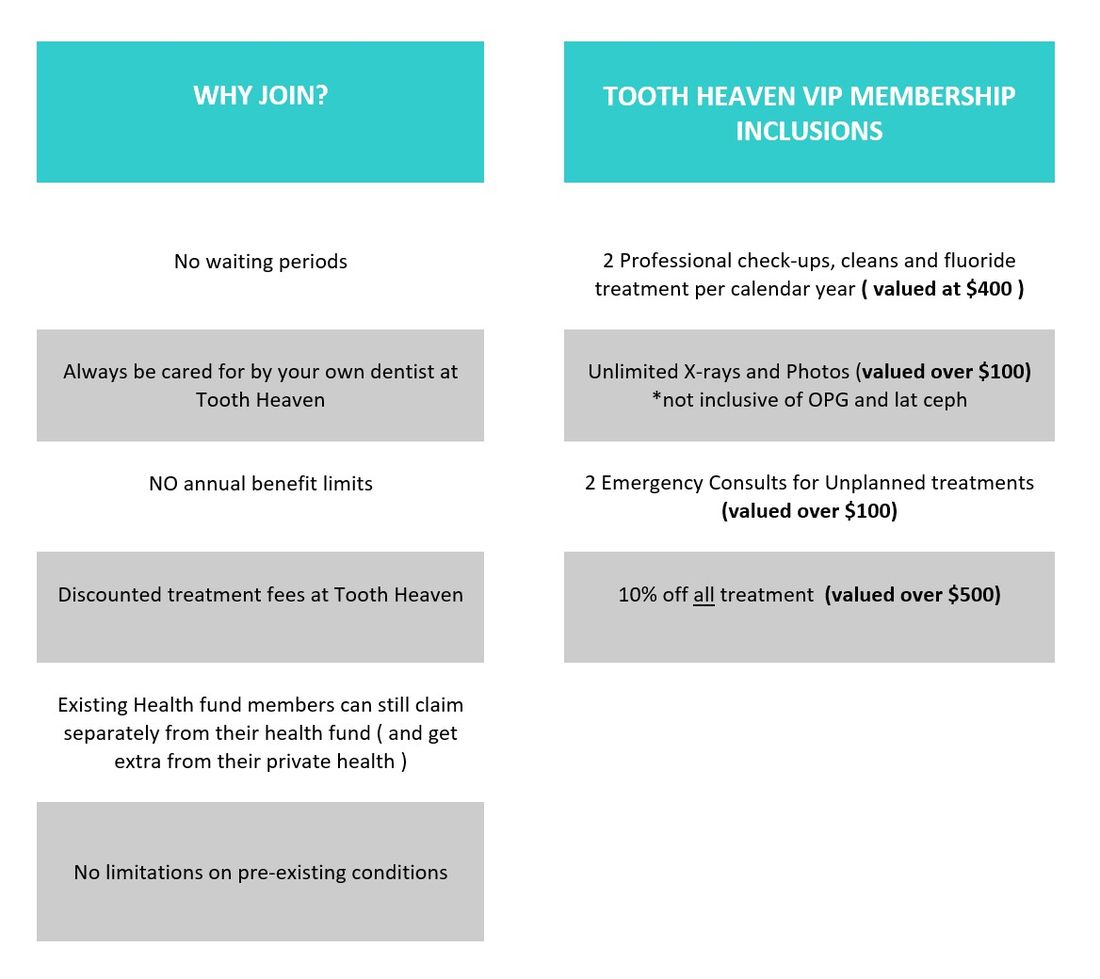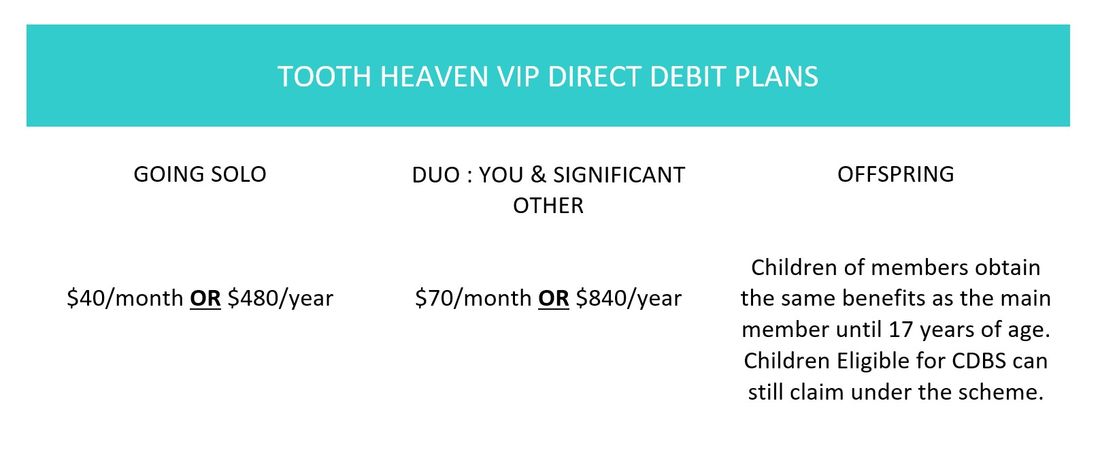 Dental Exclusions & Limitations:
This program is a discount plan, not a dental insurance plan. It cannot be used:
For treatment which, in the sole opinion of the doctor, lies outside the realm of their capacity.
For hospitalization or hospital charges of any kind.
For costs of dental care which are covered under automobile or medical insurance.
For services of injuries covered under worker's compensation.
For dental procedures that are referred to specialists.
No discounts on consumable items such as Curasept, Toothbrushes etc.
Cannot be used in conjunction with any other offers at any time by Tooth Heaven
Program Guidelines:
Membership fees are due the day of joining the program.
Membership cannot be used on the same appointment of signing-up. Only applicable to the next appointment.
Members cannot claim on private insurance for free items listed in inclusions ( ie: checkup, cleans, fluoride and xrays). It is allowed for any other treatment offered at 10% off.
No refunds of premiums will be issued at any time.
Children listed on plan must live in household or be a full time student.
Membership expires one year from joining the program. Cancellations within a year might incur exit / dishonour fees.
---
Schedule an Appointment with your Tooth Heaven Dentist today!
Now everyone can afford to smile. Contact Us By Clicking Here